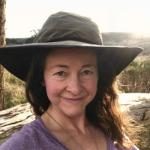 Cynthia Eisho Morrow (she/her) is a life-long apprentice navigating wild landscapes, inner and outer.  She discovered the School of Lost Borders in 2003. Having grown up with grandparents who lived in the Owen's Valley, the School and earth-based ceremony were a natural fit. Cynthia has been shaped by a lifetime of exploring the vast territory stretching between the Eastern Sierras and the ancient deserts in and around Death Valley. Her inspirations as a guide are rooted in eastern and indigenous wisdom traditions, and the courageous resiliency of the human spirit. As a wilderness guide, a seasoned psychotherapist, and an ordained novice Buddhist priest of the Japanese Tendai lineage, her work in all its expressions is devoted to the awakening of our radically interconnected nature of body, mind, spirit, earth, and one another. She is devoted to supporting deep healing, inner strength, and whole-heartedness for the benefit of all beings. Since 2006, she has been guiding with EarthWays, a Bay Area collective committed to restoring our relationship with the living earth. 
Email: [email protected]
View Cynthia's website at: www.natureofsoul.com.
GUIDE'S UPCOMING PROGRAMS