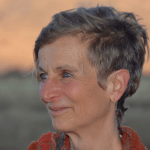 Petra Lentz-Snow (she/her) has been involved in vision fasts and wilderness rites of passage programs for more than 30 years. Guide, trainer and active steward of the School of Lost Borders, she served as Executive Director at LB for eight years and is a former Netkeeper for the Wilderness Guides Council network.
Petra is a certified naturopath and first generation immigrant from Germany, and part of the most recent generation of settlers in the Americas. She's grateful to be working on the traditional and contemporary homelands of the Nüümü and Newe peoples in the Eastern Sierra Nevada region, and to be living under the wide sky of Payahuunadü (Land of Flowing Waters).
Petra is a mother of three adult children and a breast cancer survivor, passionate about facilitating and seeding initiatory experiences and threshold practices in modern culture. Areas of special focus include women rites; the work with Illness, Loss and Death; as well as Cancer and the Art of Living. She holds space as woman, fledgling elder, guide, not-so-fine artist and cancer initiate and mainly as someone who walks with the awareness of death and lives by the grace of a heart that keeps expanding.
Email: [email protected]
Blog:  Cancer as a Rite of Passage
Interview:  Introduction on Rites of Passage
Appointments available upon request. 
2022 European Dates:
The Nature of Death and Dying- Healing and Restoring our Relationship with Living and Dying.
September 24 – October 1 2022
Full info at: https://www.transalquimia.org/nature-of-death
Contact: [email protected]
GUIDE'S UPCOMING PROGRAMS