Diamond in the Rough: Wilderness and the Diamond Approach

Direct and intimate contact with the natural world is an ancient and profound
doorway to being. Our ancestors knew this, and we are rediscovering it. Curiosity,
experiential inquiry, mindfulness, simple ceremony, and group council open this
door wider and deepen this contact. This retreat is a chance to step outside your
familiar life, be nourished by nature, find the support of deep listening, and
discover renewal, guidance, and inspiration. Here, wilderness provides a
welcoming, accessible, and powerful way home.
Program Overview: This retreat draws together two powerful paths.
The School of Lost Borders' orientation and practices root our work in immersion in
the natural world. In addition, we engage ceremonial ways of relating to the land
and ourselves and a four-fold map of nature, including human nature—body, heart,
mind, and spirit. The School's forms include vision fasts, rites of passage, and
council practice, each of which informs the Diamond in the Rough retreats.
The Diamond Approach® brings clarity and richness to the lessons of the wild. Its
practice of open and open-ended inquiry, along with its map of consciousness,
leads to the realization of our essence while helping us work through barriers to
this realization. The growing freedom that results is expressed in our authentic
presence, aliveness, fulfillment, love, and service.
Integrating these paths offers an inviting and transformative journey.
Program Questions Contact: John Davis at [email protected]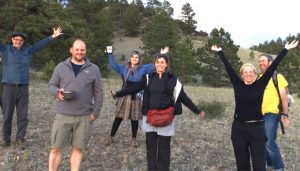 Additional course details & Materials

This retreat is appropriate for those who are new to the Diamond Approach and wilderness camping as well as those who have extensive experience with either. Previous wilderness experience is not necessary. Our basecamp will be Wild Mountain near Buena Vista, Colorado, in the central Rockies, a place of open meadows, aspen groves, pine forests, high ridges, and awe-inspiring views. This basecamp affords us solitude, expanse, and beauty within easy walking distance. It is about 3 hours from Denver and Boulder. We will be able to drive to our basecamp, and you can choose how far to walk on your solos; stay near or walk far as you are called. ADDITIONAL FEES: $105 Camping Fee will be collected at the time of the program.
You will be responsible for bringing your own food and equipment, though we can provide some gear if needed. We ask everyone to come prepared to live self-sufficiently. You will need to bring shelter and clothing suitable for a full range of inclement weather. 
To address safety concerns during the pandemic, please contact us regarding our current Coronavirus protocols as well as any current travel restrictions. These protocols may affect how you are able to travel to the program. Please note: As of May 2023 there are no longer any vaccination requirements for international travellers seeking entry to the USA.
There is no required reading for this program.
Wild Mountain is land of the Tabeguache Ute people and other Indigenous tribes who traveled through this area of the Colorado Rockies. The Ute lived and hunted in this abundant land of elk, buffalo, deer, and bear before white settlers came and forced them onto reservations in southwest Colorado and Utah.
To learn more about our commitment to regenerative relationships please visit Cultural Relations.