Young Adults Nature Based Rite of Passage

Every summer the School of Lost Borders offers nature based rites of passage for young people age 18-28 ready to confirm their entry into adulthood in the eastern mountains of Payahuunadü (also known as the Inyo Mountains outside of Big Pine, California). These are the ancestral and contemporary lands of the Nüümü and Newe people.
Nearly every culture on the planet shows evidence of a ceremonial marking of the passage from youth to adulthood, undertaken consciously and witnessed by the community. Marking the threshold of adulthood takes great courage, perhaps now more than ever before as young people face growing stressors of environmental and social crises. With the intention of finding and facing your deepest truths, your strengths and weaknesses, you turn toward the critical questions: "Who am I to be in the world?" "What are my gifts?" And perhaps "What is needed now?"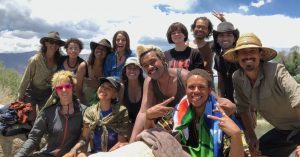 The wilderness rite of passage is an opportunity to bring your whole being into contact with the natural world, including your concerns, your challenges, your grief and your prayers, your rage and your fragility…as well as the dreams only you can dream. 
The solo fast requires a willingness to go alone in the high desert of the Inyo Mountains for three days and nights without food and minimal shelter. It is a ceremony of wholeness and belonging, in which profound bonds with inner and outer nature, self and community may be discovered. Each will come to and return from the solo time with a unique story to share and be witnessed in a story council.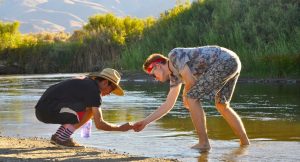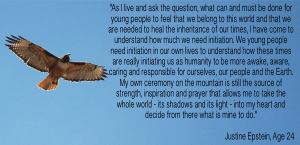 Program Overview: This eleven-day program is divided into three sections; severance, threshold, and incorporation. The first few days are a time of separation from your daily life, physical preparation, and becoming clear on your intention for going out alone into the natural world. The threshold time is your solo time – three days and nights alone on the land. Finally, the days spent after the solo are the first days of your year-long incorporation experience, where you will learn to work with the gifts you bring to the new phase of life you are entering. Our program includes an incorporation call a season after we return, September 2023.
Program Questions Contact: Gretchen Gerlach via gretchen@lostborders.org
Additional course details & Materials